Review: Rolex Oyster Perpetual 14238
The closest thing to a Rolex clock, like the ones you see in airports, fancy streets, tennis courts and golf courses.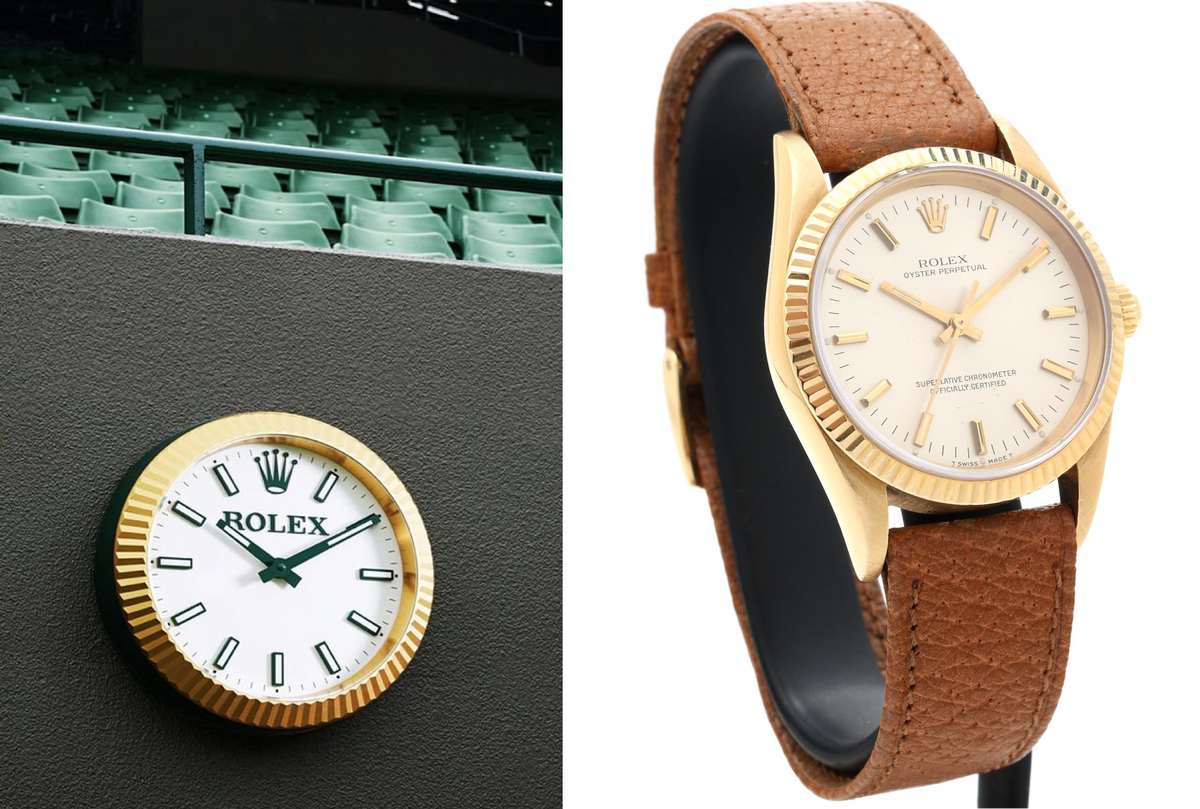 Dear reader,
Do you like minimal design?
If yes, have you ever seen one of those Rolex clocks on a street or in an airport?
Seeing these clocks, have you ever thought: "why doesn't Rolex make any watch that looks exactly like this?"
Perfect symmetry, simplicity. No date, no day, no chronograph, no cyclope. Just a two-hander. And the iconic fluted bezel as the only form of ornament. And in yellow gold please.
This is how our quest began.
We couldn't find any such Rolex currently in production. We wanted a contemporary watch (not a vintage), so we focused on models from 1980 onwards.
We wanted a 36 mm as it is the best size for us (and most people), but we couldn't find anything resembling the famous Rolex clock. So we settled for smaller.
The fluted bezel is essential. It catches the light beautifully, and makes the watch interesting. Otherwise it would look too plain, like so many Patek Philippe and Vacheron Constantin.
Narrowing down to three references
The closest resembling ones we found were:
| Oyster Perpetual Air-King | Oyster Perpetural | Oyster Perpetual |
| --- | --- | --- |
| Ref. 5520 | Ref. 67518 | Ref. 14238 |
| 34 mm | 31 mm | 34 mm |
| Gold-plated | 18k gold | 18k gold |
| Acrylic crystal | Sapphire crystal | Sapphire crystal |
| Cal. 1520 | Cal. 2130 | Cal. 3000 |
| Usually comes with a smooth bezel. We were never a big fan of the "Air-King" text. | Some men wear a 31 mm Oyster Perpetual, we couldn't. | Decent width, movement, and materials. Probably the best of the three. |
Bracelet
Most of these watches were sold on a solid gold bracelet, more specifically, an oyster bracelet.
And we didn't care for a gold oyster bracelet for 5 reasons:
Reason #1: These bracelets being 30 to 40 years old, most have a great deal of stretch (see picture above). And this makes the watch look very old.
Reason #2: The solid-gold bracelets are expensive: Bear in mind that these old and sad-looking bracelets cost as much as the watch alone.
Reason #3:Realistically, we cannot pull off a solid gold bracelet.
Reason #4:With a leather strap, the wife and us can conveniently share the watch.
Reason #5: If anything, we'd rather have a jubilee or a presidential bracelet, which weren't offered, and cannot be fitted afterwards: These 34 mm Oyster Perpetual cases have an unusual 19 mm lug width, and, to our knowledge, no solid-gold jubilee/presidential bracelet come in 19 mm width.
Sourcing this watch proved very difficult. There are never more than 3 models for sale worldwide, and then, there's the dial color.
Champagne dial
The classic dial (we believe it's called "champagne" looks very dark and heavy. And difficult to read.
This model can be also found with a black, and a white dial with Roman numerals.
Black dial
Black makes for the most legible watch here.
A black dial is great with the gold bracelet. We like sticking to two colors only, like black + gold.
With a brown leather strap, it would probably add a third color and not work as well. And on a black leather strap, it would look too serious.
White "Buckley" dial
The white dial with printed Roman numerals is too busy for our taste.
And here on the brown strap, we have gold, white, and brown, which looks too busy again.
The rare "silver champagne" dial
However, what caught our eye was a rare model with a dial in between silver and champagne, which looks more modern.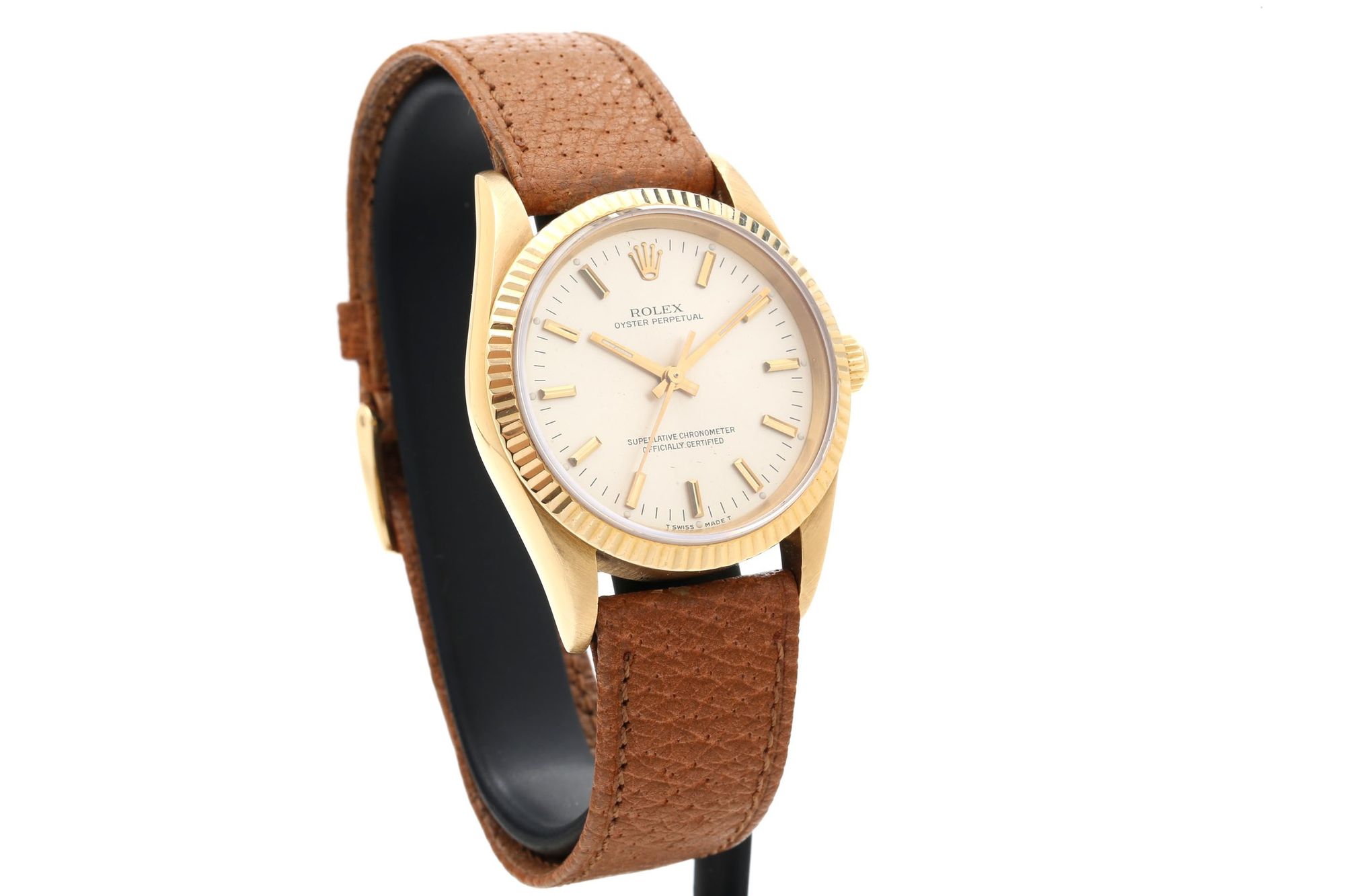 We don't know whether this dial is a rare option, a patina (natural color shift due to aging), or if it is an aftermarket dial.
Lume
This Rolex has tritium dial which has long faded so don't expect to read time in the dark.
We wonder if the Rolex service center would be able to upgrade it with superluminova lume.
We know some think upgrading the lume would take away from the authenticity of the watch. But we are not after a mint vintage watch. All we want is a beautiful and practical everyday tool watch.
Our favorite detail: the brushed lugs
Our favorite detail about this watch are the brushed lugs. The brushing makes the watch more casual and hides scratches.
It seems to be unique to this era of gold Rolexes.
Nowadays, the Datejust and the Day-Date have shiny polished lugs, which make for a more flashy (and tacky) watch — and even more so in yellow gold which is already a statement.
We wish the brushed lugs would come back today.
This Oyster Perpetual is a pleasure to wear everyday. Without the date complication, setting the time is fuss-free.
With its 34 mm diameter, it fits under the cuff and stays hidden when needed. It also means that it suffers less from everyday shocks against doors, walls, etc. It bears less dings overall.
This Oyster Perpetual is incredibly easy to wear on a daily basis. Whether elegant or casual. We have yet to find an outfit it would go well with.
It's timeless. The whole family likes to wear it.
Another positive about this solid gold Oyster Perpetual, is that prices are still reasonable (as of 2021).
This is especially nice for a rare reference.
They are better value for money than similar steel models from Rolex.
What's more baller than a gold Rolex we ask?
Regards,
Edward